The mega art festival Art Macao has hit Macao, bringing cultural activities and art exhibitions to many corners in the city. The core event "Art Macao: International Art Exhibition" has invited international resorts and hotels in Macao to participate in the art fiesta, which brings incredible art pieces from both home and overseas to the city to showcase the charm of modern visual art.
In last issue, we invited representatives from Melco Resorts & Entertainment Ltd., MGM, Sands China Ltd. and Wynn Macau Ltd., to share with us the special elements and highlights of their exhibitions. In this issue, we have invited Galaxy Entertainment Group and Sociedade de Jogos de Macau, S.A. (SJM) to share their experience on organising exhibitions.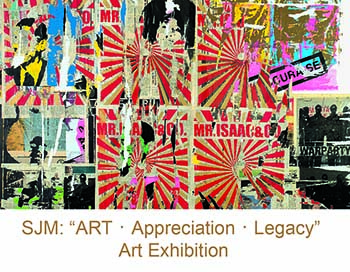 Galaxy Entertainment Group: GRACE KELLY: From Hollywood to Monaco—Artists' Tributes
GRACE KELLY: From Hollywood to Monaco, presented by Galaxy Entertainment Group and co-organised by Galaxy Entertainment Group Foundation and Grimaldi Forum Monaco, centres on legendary Oscar-winning actress and Princess of Monaco Grace Kelly's life stories. The exhibition includes the exclusive collection from the Prince's Palace of Monaco and many art pieces inspired by Grace Kelly. Visitors will be able to see her Oscar award, luxurious wedding dress and the handbag named after her. Besides that, the exhibition also showcases the legendary actress's life story with visuals and audios, including footage of her acceptance speech at the Oscar, her wedding documentary, historical pictures of Monaco, etc., in an attempt to bring the audience a diverse experience at the exhibition.
The exhibition's biggest feature is that it integrates history, heritage, fashion and arts to present the legendary life stories of Grace Kelly. "Grace Kelly was one of the biggest icons in the 20th century. She became a superstar in Hollywood and then became a princess of Monaco after leaving the movie industry. She was always glamorous and graceful and was the muse of many art pieces," Joanna Lui, Assistant Vice President of the Lifestyle Curation at the Galaxy Entertainment Group said. "It's fair to say she is a timeless icon. We purposefully turned Galaxy Macao's Crystal Lobby into a museum-like exhibition venue with a great cultural and artistic vibe. We did so to provide Macao residents and tourists with a fashionable art exhibition."
According to Lui, the exhibition has attracted a number of Macao residents and tourists since its opening in May this year. Many industry experts and art lovers have also come to Galaxy Macao to visit the exhibition. "During the exhibition, we also invited many societies and schools to visit the exhibition. We have professional guides to explain the story and history behind each exhibition art piece. The diverse pool of art pieces and the artistic vibe at the venue will make you feel like you are actually visiting a museum," she said.
The exhibition is a joint art project backed by Galaxy Entertainment Group and Grimaldi Forum Monaco. The two signed a Cultural Exchange Memo earlier this year and subsequently rolled out the exhibition for the first time. "We started to consider the possibility of bringing the exhibition to Macao three years ago," Lui pointed out that Galaxy Entertainment Group is dedicated to driving art and cultural exchange between Macao and other regions around the world. "The project took us over a year to complete. During that time, we had cooperated closely and successfully with the team from Grimaldi Forum Monaco, which was very crucial for the smooth operation of the exhibition."
Lui believes that Art Macao can help bring world-class art exhibitions from all around the world to Macao, which would help Macao consolidate its unique role of bridging the western and Asian art communities. "Galaxy Entertainment Group is honoured to organise this event which helps Macao boost its cultural attraction and tourism. We are honoured to be able to help build a world-class culture and art platform," Lui concluded. "In the future, Galaxy Entertainment Group will continue to explore the art scene and bring different cultural and art products to Macao so as to create more world-class leisure experiences for local residents and visitors. We want to join hands with local communities here in Macao to help build the city as an international tourism and leisure centre."
Exhibition date: 16/05/2019 - 28/08/2019
Venue: Galaxy Macao