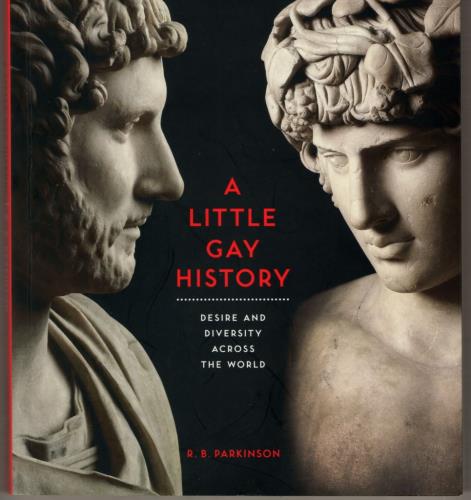 The Sexual Offences Act was enacted in July 1967 in Britain. It decriminalised homosexual acts between men who have attained the age of 21 in England and Wales. The Act is considered a milestone in Britain's LGBTQ movement. Scotland and Northern Ireland followed suit and respectively passed laws to decriminalise homosexual acts in 1980 and 1982 in order to recognise more gay rights. To commemorate the 50th anniversary of the enactment of the law, major arts institutes in Britain like British Museum, Tate Britain and National Trust are going to hold relevant exhibitions throughout the year. It is hoped that people will remember how gay people were unfairly treated and pay more attention to the LGBTQ (Lesbian, Gay, Bisexual, Transgender and Queer) movement. It is also hoped that people will understand the uniqueness of the LGBTQ culture in the sphere of arts.
The British Museum
To explore and trace the experiences of LGBTQ in the western history and culture, a special exhibition "A Little Gay History" will be held in the British Museum from May to October this year. Covering the wide span of a thousand years, the exhibits include letters written on papyrus in ancient Egypt, a Roman drinking cup decorated with erotic depictions, and images created by contemporary artists like Bhupen Khakhar (1934-2003) and David Hockney (1937-present). While various types of objects are exhibited, the aim is to explore the differences and diversity of love, desire and gender. The concept of the exhibition is based on the eponymous title of the book written by Richard Parkinson who once worked in the museum. The book covers the collections of the museum with an LGBTQ theme and is filled with incisive observations and comments by the author. The book won the Stonewall Book Award in 2014, among others.
Tate Britain
Echoing Britisn Museum's "A Little Gay History", Tate Brtain is going to hold the "Queer British Art" exhibition and featuring works from 1861 to 1967 relating to the LGBTQ identities and culture. The collection includes paintings, drawings, photographs and film from artists such as John Singer Sargent (1856-1925), Dora Carrington (1893-1932) and Duncan Grant (1885-1978). This is the museum's first large-scale exhibition that focuses exclusively on queer British art. Audiences will be able to know more about how artists expressed their emotions and feelings through their artworks when modern terminology of "lesbian", "gay", "bisexual", "trans" and "queer" were unrecognised.
Beyond London
Apart from the British Museum and Tate Britain, arts institutions in other parts of Britain are also going to hold similar events. For instances, National Trust has launched a programme called "Prejudice and Pride". There are plans to invite the public to explore the LGBTQ heritage of places like Knole House, Sutton House and Smallhythe Place. Moreover, Russell-Cotes Art Gallery and Museum in Bournemouth and Walker Art Gallery in Liverpool are also going to launch LGBTQ-themed exhibitions during summer months. The former one is collaboration with local LGBTQ artists, while the latter one is a showcase of its own collections.
Establishing an LGBTQ museum
An advocacy group called Queer Tours of London has placed pink donation boxes in ten spots with a significant queer culture in London since the end of last year. It is to fundraise for the museum dedicated to the LGBTQ communities. This initiation not only allows people to understand more about the LGBTQ culture, but also enables the gay communities to deepen their knowledge of the gay movement and history. It is hoped that by founding a museum and holding exhibitions, an open, mutually beneficial, equal and respectful public space will be established. At the time of writing, The Alan Turing Law was just enacted and pardons were implemented for men convicted of homosexual acts that are no longer offences. I anticipate that the arts sector in Britain will be brimming with gay pride this year.