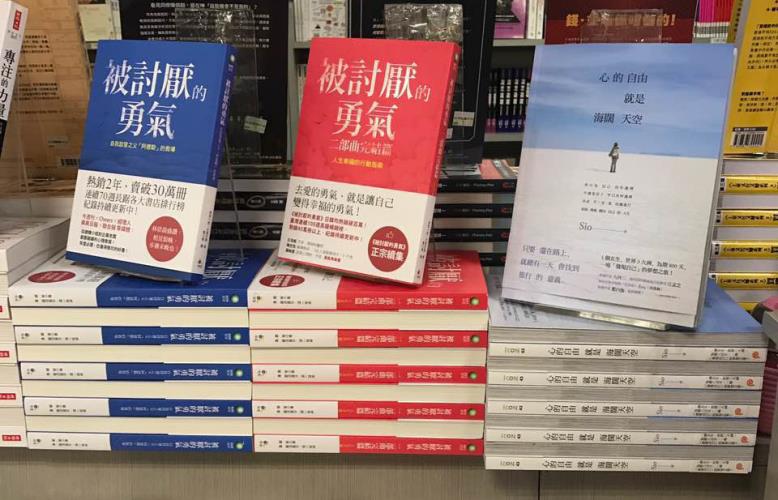 In these days, it is not difficult to publish a book. If you have a unique profession, wonderful stories, and many fans, you can easily write a book like Healthy Recipes against Cancer, Implication from the Three Divorces, The Make-up Queen's Tips. Many good publishers would even drop by themselves. Content is always in short supply nowadays, but it is quite contradictory that there is free information everywhere. Selling a book therefore has become very difficult.
I would compare the difficulty and easiness in publishing between Macao, Hong Kong and Taiwan with my own experience.
There are a lot of publications every year in Macao although it only has a few publishing houses. In the respect of funds, it is easy to publish a book in Macao because many books are community projects which are funded by the government. However, it is a pity that both the press and authors are not concerned with the sale after the new books are on shelves. They don't even care where the book should be placed or whether it has actually appeared in the market. I believe this is completely meaningless. We can't set aside our book once it is published no matter whether it makes money or not. We must try to make as much opportunity as possible to let our readers to be able to read every word we write with our hearts. Many years ago, our non-profit association, Macau Creatives published a book called Untitled Chapters. The book was consigned both in local bookstores and through other channels in Hong Kong, Singapore and Taiwan. I used to sell five and ten copies at one time with 30% of the consignment fee to pay for each one. We couldn't make any profit in this way, but we can earn every chance of public exposure and real marketing experience that we fought for. Even though we managed to get government funding at that time, the amount of the fund only covered the cost of printing. We would have invited our Taiwan channel for overseas shelf promotion if we have had enough funds because promotion requires specialised professional care. It is impossible for us to remain sustainable development by knocking at every bookstore and by sending book every time whenever there is an order only by ourselves.
Hong Kong has a complete publishing industry, and every year there are many new books on shelves. But publishing a book is not for sale anymore in many cases. Even someone who doesn't know how to write can publish a book today as long as he or she is a movie star or a web celebrity. Lots of publishing houses try to catch the attention of readers by printing hot-topic books with more pictures and less words as soon as possible, regardless of the quality of the content. More and more authors just want to have multiple titles, because everyone knows that there are few people in Hong Kong who are willing to buy books. I once had a chance to get a contract with the Hong Kong Press, but I was asked to reduce my stories in North America and Europe from my wanderings of almost half of the earth and three continents to just South America with emphasis of as less words as possible. I was also asked to finish the book in no more than three months with merely 4% copyright royalty which can't be paid until the book is sold out. The editor also told me frankly that it was already considered a very big sale if my book could be sold by 200 to 300 copies at the book fair. Therefore, only 500 to 1,000 copies could be printed each time. The number already tells you that it is not for profit but for fame that people publish books in Hong Kong.
Taiwan is the most influential publishing market of books in traditional Chinese-character, which ranks within top three in the world in terms of new book volume. It has several thousand presses with tens of thousands of new books printed every year. But, because of the emergence of iPhone and Facebook fan page, its publishing industry has declined rapidly in recent years, entering into a sluggish harsh winter. In 2010, the sale of the publishing industry in Taiwan amounted to 36.7 billion, and then it fell to 18.5 billion in seven years. There are various publishers in Taiwan with different sizes. Some companies only offer design, typesetting, editing, publishing, access and other one-stop services for authors to publish books at their own expense. Moreover, the press will publish translated version of the best-selling foreign books, or invite professional experts to write tips, or look for web celebrities to attract fans in order to ensure profits. Sometimes, the press will also discover new stars, or give a chance to literary winners. There is also some lucky person like me, who is able to win the press' favour by self recommendation. In fact, I was quite surprised that the press, such as famous as the Crown Culture Cooperation, would have someone responsible for all the self-recommendation emails. Yes, it is true that there is someone responsible for all the self-recommendation emails. This is what they told me in person which made me feel that the world is after all quite fair. Without doubt, you must pass another examination of the editor after you successfully get through the email test. To be frank, this is all about taste and fate. There were other Taiwanese press editors who told me my story was too big to attract any sympathy, but my editor believed in my big world and gave me the contract with 10% royalty which would be paid immediately after the release.
Before I got the contract, my editor asked me to open a fan page without indicating how many fans I should get before the contract is sent. I had to work hard on the fan page with full faith without asking for any more details. I was an unknown writer at that time, I need to gain fans so that the publisher wouldn't lose money. This is a very simple logic. What surprised me the most was that they sent me the contract when I had merely three thousand fans in just a month after I started the fan page. Was it because the editor had already recognised that I was very persistent and had already predicted that I would manage to get 60,000 fans before the public release, that I would do all my best to tour around small and big cities of Taiwan for book sharing, and then carry out all kinds of propaganda activities online and offline in Malaysia, Hong Kong and Macao, and thus successfully selling the first 3,000 volumes in half a year to ensure the profit of the press?
Although my book managed to be reprinted in half a year which gave me great comfort, the achievement was actually accredited to my hard working on the fan page in two consecutive years and my sprint of new book advertising for six months. It's definitely not easy to sell a book today, but it is a lot easier for an ordinary person to publish a book than before.