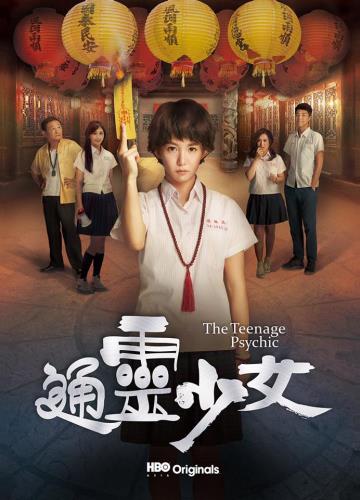 Poster of television series The Teenage Psychic  Photo courtesy of HBO Asia
Given the robust development of the movie industry in Mainland China, many international analytics firms predict the box office sales in the mainland will overtake those in the United States this year. Film industry, online advertising, and Internet service industry are the three fastest-growing sectors in China in the next five years, in tandem with the four operational models adopted by the current entertainment media segment, namely original content, integration of resources, technology module and mash-up. For instance, Alibaba Pictures Group invests in various areas, such as IP of original content (intellectual property, usually referring to well-known literary and artistic works with development potentials), film making, distribution system, online marketing, advertising, online ticketing solution and payment solution; what the company does is not simply about movie making and marketing, but also constitutes to the establishment of an integrated entertainment and e-commerce platform.
The Taiwanese partner of PricewaterhouseCoopers (PwC), one of the Big Four international accounting firms, organised "2017 Forum for Trends and Capital Market of Industry of Audiovisual and Music Production" in this February. Analysing the industry in five areas, namely demographics, market competition, consumption patterns, geographical locations and business models, the forum provided insights on one of the industry trends—striving a balance between globalisation and localisation of the content. For instance, a widely discussed Taiwanese television series—The Teenage Psychic—was actually a students' work for the Taiwan Public Television Service (PTS). Following the collaboration between PTS and a Singaporean production company, the work was then recommended to HBO Asia, a division of the acclaimed U.S. broadcast network, and developed into a miniseries comprising of six episodes. Incorporating with the Taiwanese folk religions and temple culture, The Teenage Psychic, HBO Asia's first Chinese-language (mandarin and Taiwanese) series, is a coming-of-age story about a girl with abilities to see ghosts.
It's common sense that original content is the key to the film and television industry, but there might only be one out of 100 original stories that has values for IP production and further development. To facilitate the growth of the industry, there has to be an unlimited and diversified supply of original stories. As a result, the mainland has seen the boom of online fiction in recent years. According to Research Report of China Online Literature Industry, the market value of the Chinese online literature industry totalled RMB7 billion in 2015 with about 350 million users. The report said fantasy, wuxia (Chinese martial arts and chivalry), and romance were the most popular themes, such as The Journey of Flower and Nirvana in Fire that constantly hit new rating records. Although the State Administration of Press, Publication, Radio, Film and Television published the Film Industry Promotion Law of China in this March, forbidding any content involving extramarital affairs, minor romance, homosexuality, and feudal superstitions like spirit possession and reincarnation, these cannot keep the fervent investors away. Among the top 50 streamed online television series in 2016, almost half of them were based on online fiction.
Another type of original stories that has been highly sought after by investors is creative nonfiction. In the beginning, people engaging in creative nonfiction are usually reporters and editors that write in-depth features for traditional media, but more and more online platforms jump on the bandwagon, including "True Story Plan", an official account on WeChat that publishes an inspiring, original true story every day. In the meanwhile, there are also some new writing platforms, such as "Story of Guyu", "Living", "Non-fiction Project", "Noon Story" and "One Lab" (invested by renowned author Han Han), in which professional journalists or the public can contribute their works. As these creative nonfiction platforms are under the radar of venture capital companies with some receiving investments of over RMB3 million for operation, both professional writers and amateur contributors hope their works can become popular IPs and turn into film scripts, television scripts, picture books and animations. Examples of creative nonfiction turning into IPs include Pacific Battle Royale, whose film adaptation right was bought by Le Vision Pictures at a whopping price, and A Matter of Life and Death in 1986 was purchased by a film company at RMB2 million for adaption. Besides, the works on "Noon Story" have been compiled by the Guangxi Normal University and published as Works of Noon Story: I Walk Through the Wall, an example of the online nonfiction turning into print nonfiction.
An endless, diversified supply of original stories first receive resounding praises from readers through the integration of online platforms, before attracting interested movie investors——This is exactly the model of development of movie industries in many countries. Good stories make good movies.