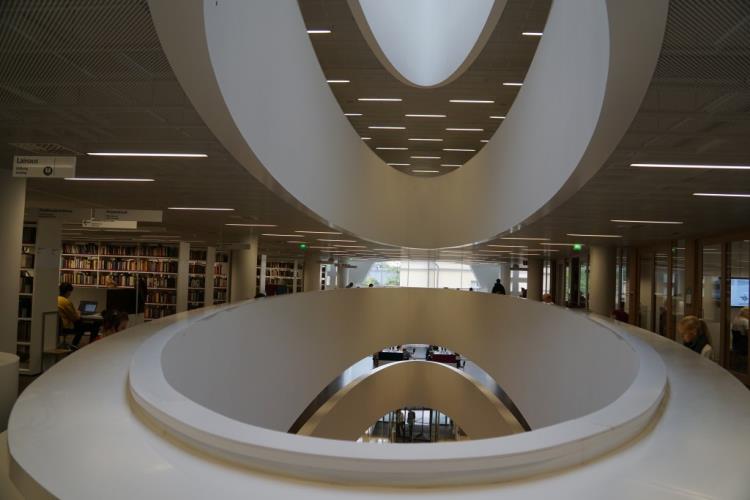 I have been attracted by Finnish design for a long time. With a population of five millions, this land of a thousand lakes possesses endless supply of creativity. There's Nokia, once a dominant force in the wireless world; there's Angry Birds; and needless to say, there's Iittala glassware, a must-have item for good quality of life. Fiskars scissors, too. Each family in Finland has at least a pair of it. All these brands originated in this tranquil country.
When Helsinki first greeted my eye, it couldn't easily give me an impression that this country is in fact so strong on design. Houses straddling streets in the city are old yet durable. They aren't eye-catching. Instead, they are as discreet and quiet as how Finnish people behave. Perhaps it's the essence of Finnish design — simplistic, solid, unpretentious and durable. Finnish design is just like a heartwarming buddy rather than a glamourous partner that one can show off. Crafting the beauty of simplicity is no mean feat. Good design needs not to be elaborate to capture your heart.
We usually believe our eyes and we would be bewitched by what we saw. But you can only tell whether a design is good until you have actually used it. For instances, the three-legged stool and Savoy vase designed by Alvar Aalto are both functional and beautiful. They do not possess any unnecessary décors. Instead, the human-centric approach in design ensures that the objects seamlessly weave the natural world into everyday life. The unique bending technology employed in the three-legged stool was developed by the designer. And the stackable design is both beautiful and functional for daily use. The irregular form of the Savoy vase looks like the shape of a lake, and its versatile design allows the consumer to decide how to use it. All of these designs made their debut in the 1930s, and they have become perennial favourites and icons of Finland.
Finnish people have realised the importance of design since the year dot. They believe that good design is the key to good quality of life. They also believe that only the beauty that can stand the test of time can be called eternity. Don't be surprised that cafés in Finland still use Iittala glasses and Aalto stools today; ladies wear the colourful and uniquely patterned Marimekko, and joggers wear Karhu sneakers, a classic sporting goods brand in Finland founded in 1916 which innovated the first use of air cushioning in running shoes. The dish draining closet, an ordinary household appliance that can store dried dishes and at the same time allow dishes to be drained separately, is also a Finnish invention. All of these excellent designs came into existence because of careful observation of what is missing in daily life.
Finland is called "the land of a thousand lakes". The landscape of the country is so natural and unpretentious that even in the capital city you won't see any swanky buildings. Helsinki University Main Library is one of the new buildings that stands in the heart of the capital city. The height and the exterior building materials match seamlessly with the houses around the library. It's not so noticeable and you would easily miss it when you walk through the area. But being harmonic, quiet and low-key doesn't mean that the building has no character. In fact, the designer of the building knew that if there is only one building that deserves admiration in a city, then its beauty is only skin deep. Once you step into the library, you will be immediately attracted by its interior design. The colour of white is the main hue of the library and it's very heart-warming. The curving design of each storey turns a cold and lonely knowledge space to become livelier. People can sit quietly to read. When they feel tired, they can simply look up to the windows to see doves flying and clouds moving.
When I am travelling, I love visiting bookshops. Even though I may not be able to apprehend the content of the books, seeing how books are arranged and what books locals love to read give the traveller a clue what a city is about. Nordic people seem to love reading thrillers to spice up their peaceful life. The Academic Bookshop is located in the city centre. The building was designed by Alvar Aalto 60 years ago and is the biggest brick-and-mortar bookshop in the Nordic region. The bookshop still oozes a relax ambience. The glass ceiling allows natural light to travel across, a much-needed design in a country that gets less sunlight. Take a closer look to the bookshelves and the door handles, they are all meticulously designed and do not look old-fashioned at all.
If you prefer new architecture, what not to be missed is Kiasma Museum of Contemporary Art designed by American architect Steven Holl. This is a leading museum of contemporary art in Finland. The museum was built in 1998. Now 20 years have gone but the whole building looks as avant-garde as it used to be. Installed with many glasses, the museum allows sunlight to enter its interior on sunny days, which blurs the boundary between inside and outside. When I was visiting Helsinki, there was a roving exhibition of works by prominent American photographer Robert Mapplethorpe. "I'm looking for things I've never seen before" is his famous quote as well as his driving force for innovation. He discovered the beauty that God creates via the curves of human body, and he told us that so long as you make effort to observe, and to observe from different angles, you will also get the ability to discover beauty from ordinary life.