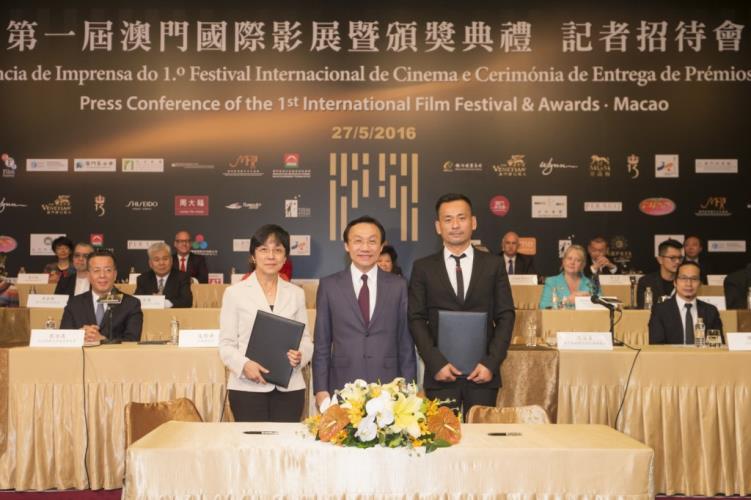 Photo courtesy of Macao Government Tourism Office
The concept of "city festivals" started to come into existence in Europe as early as the 17th century. It was until the 1970s and 1980s that city, culture and economy had gradually found linkage with one another and become important elements in tourism and creative industries. Now, "city festivals" have some more important functions. They turn culture, tourism and recreation to key contributing factors to economic growth, as well as to enhance a city's image. On 30th September, the Cultural Affairs Bureau hosted the Macao International Music Festival Forum to explore the relations between arts festivals and a city's cultural development, and how such festivals can promote urban sustainability. In the past, the Macao International Film and Video Festival (MIFVF) and the Guangdong–Hong Kong–Macao Film Production Investment and Trade Fair were highly valued by local filmmakers. Film related events organised by local associations or foreign organisations, such as the Chinese Film Media Awards, the Asia Pacific Film Festival, the Asian Film Awards and the Gold Aries Award – Macau International Film Festival, are also important. However, the upcoming International Film Festival & Awards.Macao (IFFAM) is a different game. This festival is officially organised by the Macao SAR Government and supported by gaming enterprises. World renowned filmmaker Marco Müller is invited to be the director of the festival. He formerly served as director of the Venice International Film Festival and he himself is a sinologist. When Müller took the helm at Venice, he reformed the festival and for a number of times the highest prizes Golden Lion were awarded to Chinese films.
The professional team of IFFAM composes of a director, a manager, ambassadors, international film advisors and programme advisors. They include Johnnie To, Ann Hui, Huang Jianxin, Shi Nan Sun, Dong-hoon Choi and James Schamus (business partner of Ang Lee), etc. Prominent Asian producer Lorna Tee serves as manager of IFFAM. She is the general manager of Irresistible Films (the film company of Cold War and Rise of the Legend). Honorary advisors include presidents and CEOs of Galaxy Entertainment Group, Sands, Wynn, MGM and Sun Entertainment Culture Limited, etc. All of the above confirm that IFFAM's focus is on commercial and genre films. The nature of the festival is similar to arts festivals, music festivals and the Grand Prix — it's a large-scale city festival, but this time films are in the limelight.
Apart from presenting prizes (the competition category), there are also non-competition screenings, an exhibition, master classes, a micro-film competition, a micro-film script writing competition, and filmmaking courses taught by professional instructors from the British Film Institute. I was also told that there is a film investment forum which will give local filmmakers more opportunities to meet potential investors. We can see that the government hopes that IFFAM can enrich the city's image and to produce long-term benefit for the development of the local film industry. In fact, in the Policy Address 2016, it is said that "hosting international film and TV festivals through cross-department collaboration could enrich the cultural elements offered by Macao and enhance the cultural appeal of Macao's tourism industry…" Also, in point number three of "Column 20: Major Tasks in Developing Cultural Tourism" in the "Draft of the Five-Year Plan (2016-2020)", it mentions that "through hosting international film festivals and promoting overseas [it is hoped that it could] enhance the festival's visibility internationally and attract more international visitors." Director of the MGTO went on a field trip to Cannes in May.
Using IFFAM to promote cultural tourism in Macao and to build up the city's image internationally gives us expectation to see movies officially become one of the themes of city festivals in Macao. As to the long-term development of the local film industry and the film culture, it requires long-term input and effort and it's never been easy. Whether IFFAM is merely a flash in the pan or a real driving force behind the industry, let us wait and see.