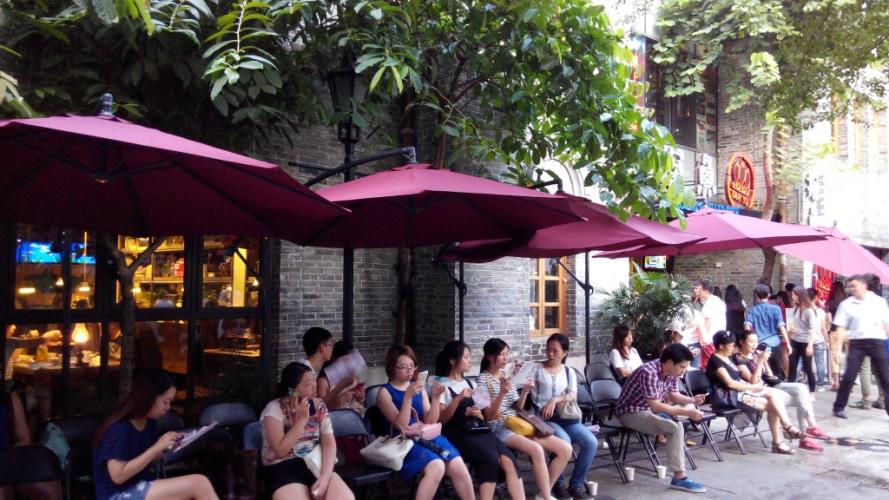 From a certain perspective, the idea of a cultural arts district seems a perfect solution to revive an old-fashioned city, Dongguan, in Guangdong province. A city steeped in history, it suffers from its own setbacks. Take Foshan as example. As the city's most ancient district, Lingnan Tiandi cultural arts district, with its long cultural legacy, has become derelict. Given the high cost of preservation, neither its residents nor the government could afford it. As a result, prominent, downtown areas have deteriorated over time. This phenomenon can be explained by several factors. Firstly, to redevelop an old city, relocation of residents is necessary. Certain historic buildings protected under national laws must be preserved with traditional methods. Development is hence hampered by the difficulty to obtain the appropriate building materials such as special tiles, molds, ceramic decorations, wooden carvings and so on, all of which require the works of skilled craftsmen. Moreover, upon restoration of these buildings, there is the question of whether the indigenous residents should be allowed to return, and if they do, will they be able to sustain the maintenance of these buildings? On the other hand, what will happen if the residents prefer modern housing equipped with contemporary amenities? If most residents decide to leave, what will happen to the restored architectures?

Lingnan Tiandi is an impressive example. What is the driving force behind such innovation, and what is the reason behind the idea of approaching a developer rather than a museum? Undertaking the redevelopment project, Shui On Land came up with the entire development plan for the district, showing that they are keen not just to construct buildings, but to create a new town.
What environmental facilities are necessary for a new town? What are the advantages and profitability of a historic cultural city? In fact, such in-depth consideration of the subject matter is no easy task. Taking into consideration factors such as areas of commerce, transportation networks and synergy with neighbouring areas, Lingnan Tiandi is a successful example of redevelopment. Surrounding this old district are a variety of amenities such as a metro station, public transport stops, commerce, high-end B&Bs, a brand new residential district, schools etc.. The former residents of the restored buildings are then relocated to modern accommodation, while deredict housing might be subject to a comprehensive repair or redevelopment programme. Such redevelopment preserves a district based on its own features and historic value, turning it into a region with museums, shops, restaurants, individual enterprises and souvenir outlets. With the arrival of attractive, contemporary retail, the area has become a bustling centre with trade and business opportunities. Having gone downhill for a long time after the clean-up of prostitution activities, Dongguan has for a long time remained abandoned by its former inhabitants, a strong contrast compared to its prosperity three decades ago. Many foreign-owned factories have been left idle. Recently, the former factory site of Vanke Properties has been converted into Vanke Cultural Arts Space, and is opened in July this year. Visiting there for the first time in August, I found that many of the spaces are still unfurnished, and the site remains very similar to the state when it was used as a factory. Within it, suitable office blocks have been turned into offices for design, advertising agencies and arts-related companies. Sites suitable for supporting retail have been transformed into bars, cafés and upscale restaurants. In addition, substantial outdoor space typical of factories is now used for staging arts festivals, which draws considerable pedestrian flow, and offers space for parking facilities.
This can be seen as an important step for the revival of enterprises in Dongguan. After all, arts and culture can often help to generate a bigger residential population, thereby stimulating retail spending and other activities. These activities then catalyse the rise of property prices in the neighbourhoods and cause demographic changes in the region. In Taiwan, such changes in the city are known as "acupuncture", referring to the relief of blockages in the body.
In this win-win situation, however, the poor may suffer. With the rise in property prices and spending levels, the poor are sidestepped and forced to live in the periphery of the bustling city, and the income discrepancy between the rich and the poor deepens over time. I do not know how China can address this inevitable outcome, but the sight of so many beggars flocked around the rail station in Dongguan seems to suggest that it remains unresolved.