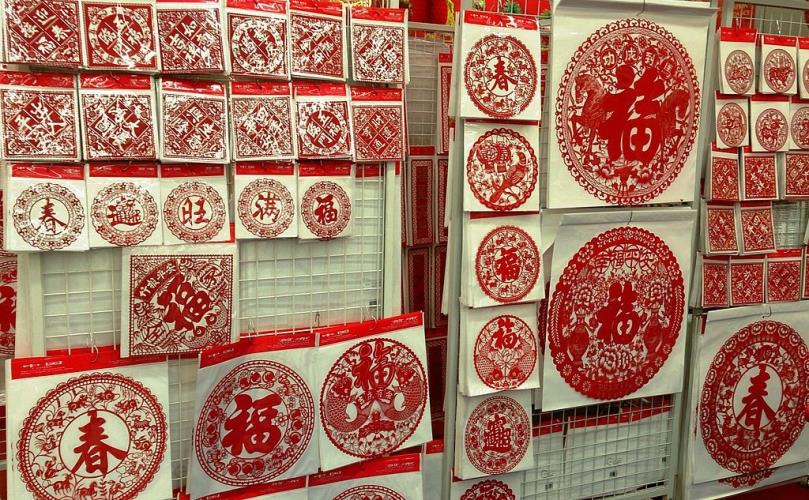 Foshan people are proud of their folk arts, and in the hometown of Wong Fei Hung, they are on display everywhere: Shiwan ceramics, embroidery, bamboo crafting and silk. Many people are walking around the stores, but few are buying. Papercut stores attract a bigger crowd, as parents and their children crowd around a small table. After inquiring about embroidery classes, I went over to the papercut store to see if I could find any suitable souvenirs.
The pricing was not particularly helpful. Papercuts with frames were too heavy and couldn't be carried in a backpack. Those without frames were too big. The sales assistant suggested I get a small one, about ten yuan for one papercut of the zodiac signs as a gift for children so they can get to understand papercutting. I smiled and said, "With thousands of years of history I'm sure papercutting in Foshan has a wealth of classical designs. Have you thought about updating some of these designs, for example using laser cutting to make some contemporary decorations, or even just name cards and stickers?"
I left out paper tape, which is one of the best-selling old-school stationery items this year.
She didn't understand me at first. After I explained again, she finally understood and replied with alarm and almost as if she were offended: "All our items are made by hand, not machines! And all the patterns are hand-drawn. If, like us, you have made them with your own hands, you will understand why they are so expensive."
In Taiwan, students in the 1980s also had papercutting classes, and the schools took it very seriously. Stationery shops sold all kinds of papercut patterns, ranging from classical Chinese ones to contemporary ones such as comic figures to pop idols. It was an achievement to finish one papercut in one term, but some of the more talented students could produce a few. They could then frame their finished products and show them off in school, becoming superstars.
Now, it is almost impossible to find papercuts. Papercuts were originally used to stick on windows, but nobody does that anymore. However, they have come back in another way: on walls.
When I first saw wall decorations, I thought of papercuts. If there was a way to combine papercutting with modern home decoration and use machines to manufacture at least some of them, we could then incorporate papercutting into everyday life, and make it a more long-lasting and sustainable art form. Once there is a basic selection of items out there, some consumers will demand more and better products and seek out more traditional handmade alternatives, helping support the whole market.
Folk arts must be part of the fabric of everyday life, otherwise, if they are detached from people's lives, consumers will feel that they don't have a connection with the product and won't want to buy it. The basic principle of cultural and creative industries is to modernise beautiful traditions of the past for today's market, rather than letting them lose relevance and be relegated to musty museums.
This isn't to dismiss the skills of the crafts makers. But the fact is, as the cost of living increases, the cost of making these handmade items will only increase. A large papercut would require a long time to complete; in the meantime, the artist continues to have living expenses. How many consumers are willing to pay that price? As demand wanes, professionals will see their income decrease, and if their skills disappear along with that, that is a real tragedy. Expanding the product lines to include lower cost peripheral items in order to support the more difficult products is a viable alternative to consider.
I hope that Chinese New Year couplets and paintings, papercut, and all other beautiful folk arts will be able to keep up with the pace of change in the modern world and be passed on to future generations.