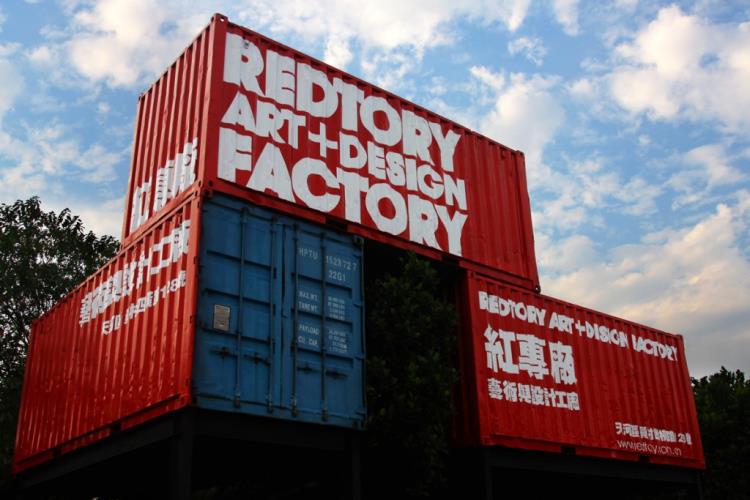 Photo courtesy of Redtory
Several months ago I joined a cultural industries exchange tour organised by a local youth group and got a chance to visit some iconic sites in Guangzhou, including Guangzhou Leafun Culture Science and Technology Co. Ltd. (Leafun), Redtory and Yi-Gather Community. Our group got an opportunity to meet Lin Zhuanghao, the representative of Leafun, and use the 100-seat venue developed by its brand Lemuse (an acoustic system). Digital technology is employed to change the traditional way of how sound is transmitted. This enables a single venue to create different acoustic effects.
Instead of using sound absorbers to keep perfect acoustic effect, Lemuse has its own strength. For instances, the National Centre for the Performing Arts in Beijing consists of three venues to provide space and acoustic facilities to satisfy different needs. They are opera house, concert hall and theatre. However, Lemuse is able to change the acoustic effect inside one single venue by applying digital technologies. This not only suits the needs of different acoustic requirement, it's also cost-competitive. However, I have reservations about using such technology when it comes to classical music. After all, concert-goers are looking for live and authentic effects. Listening to CDs at home is perhaps better than listening to sound produced by a digital mixing console.
The size of the Redtory in Guangzhou perhaps is not comparable with 798 in Beijing, but the shops in Redtory, no matter the design and the layout, are full of Lingnan style – elaborate, durable, petite and exquisite. Prices of the merchandise are obviously higher than what average Guangzhou people can afford. But there is no admission fee. I saw quite a lot of tourists and locals alike lingering around the area. If Macao aims to turn itself to a world-class travel and leisure destination, and to promote cultural and creative industries in its policy, the modus operandi of the Redtory is a very good reference. However, what Macao lacks is a piece of land that has less land-use controls, affordable and allows the industries to group together. The Bairro de São Lázaro in Macao is too small and thus difficult to become well-known. It can't provide the concentration that is necessary to grow the industries. The lack of manpower also hinders the industries to further develop. A concentrated site allows the industries to proliferate and better the brand recognition, therefore a genuine creative industries precinct can eventually be built. Regrettably, the Cultural Industries Fund now only provides subsidies to building renovation, and to art groups and individuals. The mode of operation is like a relation between a manager and a tenant. Tenants should have opportunities to exchange ideas, but now landlords tend to make profits by leasing or subletting the sites. The original purpose is not achieved but instead it has become a tool to make profits.
Yi-Gather Community is located at Zhongshan 7th Road in Liwan District. It's a historical neighbourhood in Guangzhou and a lot of traditional houses are still there. Yi-Gather is housed in a traditional three-storey Canton-style building. Members of the community are closely connected to each other and free to exchange ideas. Discussions and workshops about creativity are held regularly so as to improve design skills. What I found interesting is some people criticise that the joining fee is too low. However, the major source of income is not from subletting units of the building. Instead, artists get together to work on commissioned projects (usually commissioned by corporates) and make money out of them. Also, the community hosts events and incomes are used as revenue expenditure. According to its representative, the revenues are considerable. In comparison with Yi-Gather, creative precincts in Macao are rather short-sighted when it comes to efficacy. Now, those precincts only rely on subletting spaces to generate profits as the way to go. But when it comes to allocating resources, the only factor that a tenant would consider is how much he or she has to pay to rent the space, and thus creative precincts may not be considered as an option. Also, from the point of view of a precinct's management, subletting spaces and getting rent in return are not the ultimate function a creative precinct should have. According to what Guangzhou has already gone through, it may be a good idea that the management of the precinct creates job opportunities for the artists. By doing this not only professionals in the industries have more incentive to settle in the precincts, but also the productivity of the precincts would be enhanced. It's a win-win situation.