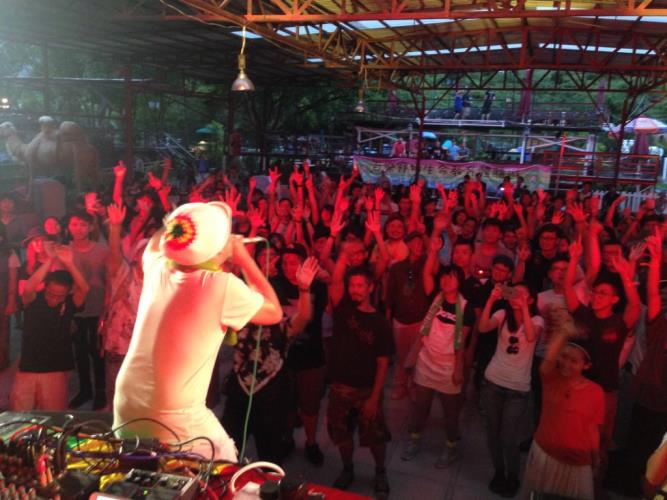 In a blink of an eye, December is almost here. This year seems to have gone by particularly quickly. And Hong Kong's live scene has enjoyed an incredible year, with many famous artists both new and old coming to Hong Kong — so many that I was worried I wouldn't have time to go to their shows. As we approach December, let's use this chance to look back on and recommend some names to keep an eye on.
The singer-songwriter who grew up fast — Michael Lai
Upon hearing Michael Lai for the first time, he may not strike you as anything special — he's yet another young singer-songwriter. But after revisiting his songs six months later, I felt that he was a real breath of fresh air, full of energy and inspiration. With a strong production crew behind him, his first album "Up Down Left Right B A Start" was varied in nature but unified in theme. I sometimes feel Michael can be the spokesperson for the younger generation. His crew hopes to position him "just outside of the mainstream" and nurture a talented musician. I look forward to music from a more mature Michael next year.
Urban folk band — Stranded Whale
Many Hong Kong bands rally around themes such as passion and dreams, which can be a bit tiresome. Urban folk group Stranded Whale's sound is more simple and nuanced, like a clear stream. Their intense focus on making music and their attention to arrangements and performance can be heard on their album "Northern Tower" or in their live session. Jabin, the main singer, writes lyrics that are poetic and really make Stranded Whale stand out among their local peers. They may not become super famous, but they definitely have staying power. I hope they will continue to make music.
Concert organisers — House of Mercury
One of the more memorable live acts in Hong Kong this year was American neo soul group Hiatus Kaiyote. The organiser was extremely bold to bring this little-known act to Hong Kong. That's how House of Mercury likes it – to stay one step ahead of the pack and bring acts to Hong Kong before they're well-known, which is risky but cool. The brain of the operation, Jake, said that there are quite a few young people in Hong Kong who enjoy blues/soul/funk. Apart from Hiatus Kaiyote, they also hosted Mr. Sipp, Harts and Roy Ayers this year. Jake said he hopes to continue bringing more new names to Hong Kong next year. Those who are willing to put their faith into House of Mercury should keep an eye on them.
A multitude of sounds
This is purely my personal opinion, but surely Hong Kong young people are sick of listening to pop? In other places, blues/funk/soul and other alternative forms of music have enjoyed a renaissance, spearheaded by young musicians. Whenever new sounds like that emerge in Hong Kong – whether it's Sensi Lion/Mouse FX's reggae, the tribal sounds of Hakgwai and Ah Chor or musicians playing with gypsy jazz and blues – people are curious about it, end up liking it, and ask me where they can find more such alternative music. We have been discussing the "death" of popular music in Hong Kong for a long time, but no matter what, I believe Hong Kong people still need music. As busking proliferates in Hong Kong and the internet becomes more popular as a publicity platform, I believe Hong Kong people will be exposed to more and more different kinds of alternative music. Amid the dominance of mainstream media, it's worth poking around online more to discover a wider variety of sounds.