RISO is short for risograph, a recently trending printing technique that is suited for small workshops. Besides offering a low printing cost, RISO also boosts printing efficiency. However, since it is very difficult for RISO to have precise details, there are often "accidents" that result in lines that are out of alignment, prints on the wrong location and worn-out ink. Somehow these imperfections create many special effects that traditional printers cannot achieve. In this issue, we have invited the three co-founders of Naughty Roll to share the unexpected beauty coming from printing errors.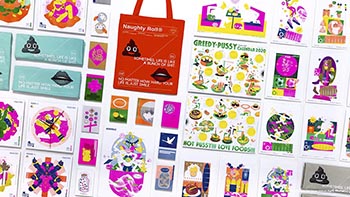 Photo courtesy of interviewee
Importing RISO at the right time
Founded in 2019, Naughty Roll is the only independent publishing and design brand that adopts RISO technique in Macao. The company was kickstarted by three young designers, Bosco Kou, Kun Lam and Dan Ferreira, who are the technology director, creative director and art director of the company. "Although it is true that print media are gradually declining, we as designers still have a special connection with printed publications," Lam said, recalling how they first came across RISO. "Since all of us had a fulltime job back then, it became important for us to find a way to produce something we like at a low cost and in a short time. RISO's features match our requirement. There wasn't any firm that was using RISO in Macao at that time neither. So we decided to bring it to the city."
RISO printer and its special ink  Photo courtesy of interviewee
In simpler words, RISO is a type of digital printer that prints one colour at a time like printmaking, which makes it more efficient to print out publications. "Most of the printing shops out there would print thousands of copies at one time. But lots of works from designers might not be mass-produced. Usually, they would have some experimental works instead," Kou explained. "This is where RISO comes in. The printing cost, scale and process are all controlled by us using RISO. RISO can easily print out vibrant colours such as gold stamping that are considered as special colours among traditional printers."
Imperfection is what makes RISO exciting
From Ferreira's perspective, what makes RISO exciting is that there are always unexpected accidents occurring during the printing process. "The final printing results might have imperfections such as malposition, scraps and unintended ink marks because of varying conditions like the paper we use, the ink and printing proportion," Ferreira said. "The printed products don't look delicate. They even look rough in quality. But that kind of retro vibe is exactly what we look for. When you print 100 copies of the same illustration, you will get copies that are more or less different from each other. This is one of the things that makes our brand special!"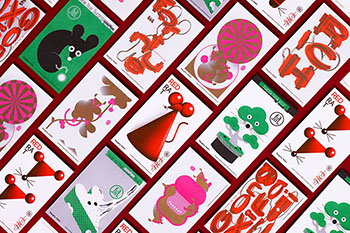 Naughty Roll Golden Rat Postcard Set  Photo courtesy of interviewee
Another feature of Naughty Roll is that its illustrations are rich in story. "We prefer illustrations. So you can see a lot of our materials feature cartoon illustrations. Some of them are about games, Japanese anime girls and humour," Ferreira explained. "We also add a lot of stories into the illustrations. Like our 12-set RISO illustration calendar series. It tells stories of our everyday life humorously. Illustrations with stories can resonate with the consumers, which gained huge success when they hit the market." "We didn't have a target audience. We were only sharing what we love through designs and products. Our imaginations are wild and we have diverse designs, which I hope can attract different types of people," Lam added.
Effective promotion at exhibitions
Although the brand was established in Macao, it received attention for the first time in Shanghai. "In last August, we took part in a book fair held in Shanghai by accident. That was our first time to showcase our works at an exhibition. It was a surprise to us that our works were able to receive unexpected popularity," Lam recalled. "Then we started to think whether the mainland market sees our illustration-like works with vibrant colours as something rare and different in comparison with products in the mainland? We brought six products to the exhibition and they were all sold out. We also reached consignment agreements with bookstores from different regions to get our products to different places. This experience allowed us to realise that our products do have a market. Then we decided to make it a brand." Besides using social media for promoting and marketing, the team will also bring the brand to different regions for book fairs and design exhibitions. "As an emerging design and publishing brand, we now focus more on promotion at exhibitions so that the audience can see our products in the flesh and appreciate their charm. Besides, we could also talk to our customers and get instant feedback from them," Kou said.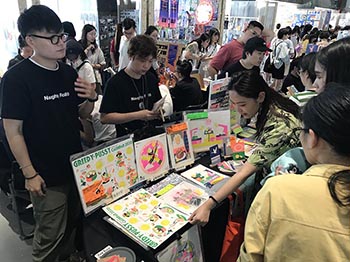 Shanghai Book Fair   Photo courtesy of interviewee
E-commerce platforms and consignment are the main sales channels for Naughty Roll. "Besides selling our products on Taobao, we also have consignment points at bookstores in places like Taiwan, Shanghai, Beijing, Ningbo, Hangzhou and Wuhan. We are having great responses. For now, we have received orders from these bookstores for restocking," Lam said. "We are hoping to consign our products in more places like Europe, Japan, Korea and Malaysia through exhibitions." Naughty Roll is working to extend the use of RISO beyond printing publications, eyeing things like fashion clothes and furniture to diversify their product line. The brand will hold its first exhibition in Macao from May to July at AT LIGHT at Patio do Padre Narciso No.1. People who are interested can appreciate the charm of RISO at the spot!
Naughty Roll
Email: naughtyrollmo@gmail.com
Instagram: naughty.roll