The way we consume music has drastically changed in the past few years if we compared recent development to that of one or two decades ago. Music streaming platforms have dominated the music scene as physical albums gradually fade away from people's attention. Music artists need to come up with innovative ways to make music in this industry to keep up with the trend. In this issue, we have invited representatives from three music groups in Macao to share their stories with us. Some of them have opened their studios, some have developed their career beyond Macao, while some have gone from behind scenes to the stage. The commonality that they share is that they all seek to diversify their work so as to remain competitive in this emerging local market.
MFM: entering the Formosa Island
MFM, a local singing group formed by Hyper Lo, Josie Ho and Adriano Jorge, entered the Taiwanese market last year, releasing their first Mandarin album Our Stories. The three-person group quickly garnered new fans in Taiwan and won the reputation of Macao's F.I.R. on the Formosa Island. Taiwan's mature music industry left a great impression on MFM. In Taiwan, MFM experienced a status that little music artists in Macao can have and encountered many of their first times.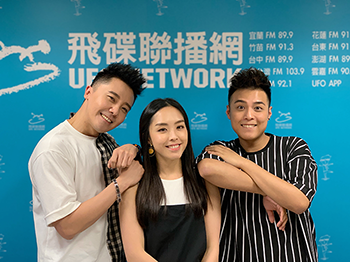 Seed Music planned a series of record promotion activities for MFM in Taiwan  Photo courtesy of interviewee
Careful planning
It is quite rare for music artists from Macao to be favoured by record labels outside of Hong Kong and Macao. However, MFM was able to secure a contract with Taiwanese record label Seed Music, who helped them publish Our Stories. Industry veterans such as Malaysian music producer Jovi Theng saw potential in MFM and backed them up after listening to two of their Mandarin song demos. They then started to help introduce MFM to record labels in Taiwan. "Three labels approached us, including Seed Music. We had never thought we would have the opportunity to choose a record label," Lo said.
MFM also had a lot of their "first times" in Taiwan. Our Stories was released in last September. MFM would visit Taiwan for a week every month from August to December last year. "When we were in Taiwan, we felt that we were well taken care of as music artists for the first time," Ho said, recalling that everything had been well-planned before they arrived in Taiwan. From the launch conference, promotion events and media interviews, everything had been arranged. They did not have to worry about anything except for focusing on their performance.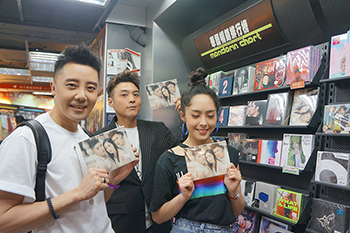 Seed Music planned a series of record promotion activities for MFM in Taiwan  Photo courtesy of interviewee
A mature ecosystem
Macao's music scene is a completely different story. Since the formation of MFM in 2017, the group has been involved in many aspects of the group operation given the company in Macao is of small scale. They would have to be involved in small details like a press release, event host scripts and more complicated things like receiving important guests. "It is super comfortable in Taiwan. They take care of you there," Ho said. Besides, The Lonely Song and Perfect, two main singles from the album were successfully sold to karaoke companies in Taiwan with time-limited copyright license. "We are new to the music scene in Taiwan without a reputation. But we could still sell our music licenses at a reasonable price. This truly shows that the music industry in Taiwan is very sustainable," Lo said.
Taiwan's mature industrial chain is also reflected by other small details. According to MFM, they found that the event hosts they met at various shows and activities would all make thorough preparation beforehand. They would have a good understanding of MFM's background and music. For instance, famous television host Mickey Huang from Taiwan was invited to host the launch conference of MFM's new album. Huang was able to discuss every song on the album. The audience at different events also showed great responses. "We felt respected," Jorge said. "We can see that they (Taiwanese people) are very passionate about music and their work."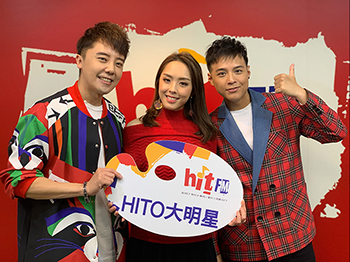 Seed Music planned a series of record promotion activities for MFM in Taiwan  Photo courtesy of interviewee
A lack of income sources
Our Stories drew inspiration from everyday life and different emotions. "This is the first time for us to release an album in Taiwan. So we were hoping that we could make some catchy songs while keeping our style (Cantonese songs) and bringing up good energy," Jorge said. In comparison with the group's previous two Cantonese albums, Our Stories had a higher production cost. For example, The Lonely Song's production involved over 30 producers coming from places such as Beijing, Malaysia, Singapore and Macao, an effort aimed to help the song reach a broader audience.
However, even though MFM's album is doing well in the C-Pop market, it is still unlikely for the group to make money out of selling physical albums in the status quo. "The most difficult part about making an album is looking for funding. Besides government subsidy, most of the fund came from the income we made for doing commercial performances," Lo said, pointing out that they had been taking a number of commercial shows in the past but the pandemic outbreak had not only disrupted their gig opportunities but also their plans in Taiwan. According to Ho, music artists in other places could rely on income coming from advertisements in addition to gig shows, but there is a lack of opportunities to cash in through advertisements in Macao. Music artists in the city mainly rely on performing at commercial events, she said.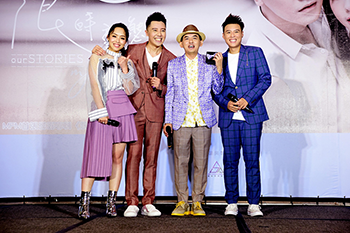 Seed Music planned a series of record promotion activities for MFM in Taiwan  Photo courtesy of interviewee
Going beyond Macao
MFM plans to roll out a new Mandarin song this year after the COVID-19 pandemic is contained. What's more, the band also wants to produce a new Cantonese song if there is enough funding. Macao will continue to be MFM's main market, while the Taiwanese market requires more exploration. Ho encourages local music artists to go beyond Macao. "Macao's market is too small. There isn't an industrial ecosystem yet. Music artists' best job opportunities are doing their own concert and attending events. But then what is next?" she said, commenting that opportunities are essential in terms of going into other markets. "But more importantly, you need to be ready. Grab your chance when it comes," Jorge concluded.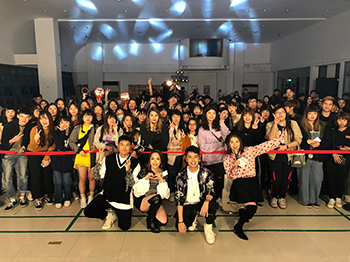 Seed Music planned a series of record promotion activities for MFM in Taiwan  Photo courtesy of interviewee
Recommendations:
The Lonely Song
Our Stories