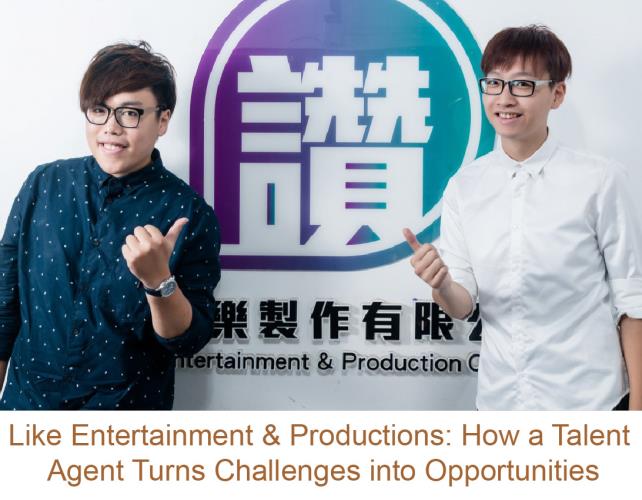 Based in Macao for years, Hyper Lo made his name in Hong Kong and Macao in 2010 when he took part in a singing contest in Hong Kong. Four years ago, he founded a showbiz agency in Macao. He, together with two of his artists, often presents in shows and events, and now his company has already gained a foothold in Macao. Before he started the business, Lo has already been very active in emceeing on different occasions in Macao. He is so voluble that even in this interview he has brightened the atmosphere.
"In the past, Macao singers were often booed off the stage. But it's no longer the case now. A number of corporates and associations hire us to do promotional events that target to pioneer the youth market." A year ago, Lo and his team composed a theme song for an organisation run by a casino. They put the music video on the internet and got fairly good responses. "Some associations request excellently composed songs and they are willing to pay us to hire a production team from Hong Kong. We once hired prominent music producer Ronald Ng to help us. This has proven that audiences in Macao now are looking for higher quality music."
Last year, Lo's company finished more than 30 songs. Each song required a month of time to compose. The company has only a few staffers so tasks like recording and filming music videos have to be outsourced. This requires heavy workloads of coordination but Lo totally enjoys doing it. He pointed out that the market in Macao is small. Only big and strong promotions can make the company survive. Comparing to Hong Kong, Macao still suffers talent shortages in the industry. In Hong Kong, tasks can be further subdivided. But in Macao, it's usually a one-man operation. When necessary, tasks have to be outsourced.
Speaking of Lo's creative work, he now focuses in music production and stage performances. During peak seasons, he has to do a dozen shows per week, while during low seasons there are three to four shows a week and most of them are playing gigs in associations' gala dinners and private banquets. "In the past, I emceed a lot in the past and I think most of the people got to know me as a compere. I am good at oratory, but what I really like is singing. Honestly, I have earned more working as an emcee. The income I have got from my singing career is just so-so. But there are many things that money can't buy. At least I really enjoy what I am doing," said Lo.
Lo believes that a singer should not only sing well, but also has to become an all-round artist. Fashion, packaging and promotion are the knowledge and skills that an artist should have learned in order to survive in the industry. "In the past, many singers in Macao believed that their job is to sing well. They didn't really pay attention to fashion. Now, agencies usually see singers as a 'package'. Apart from singing talent, an artist's appearance and manners are also considered by potential clients." In terms of what style an artist should have, Lo pointed out that it's a personal preference but audiences in Macao are not that open-minded. Governmental departments and associations usually prefer artists with a sunny disposition. If you are unorthodox, you will naturally have less jobs. "We request our artist to build up a healthy image. Cigarettes and alcohol have to be avoided. Going to karaoke bar is not encouraged. Going out on a date is natural but it has to be discreet."
Lo's company is one of the fastest-growing agencies in Macao. He believes that the success is due to apt promotional strategies. "In the past how an artist got himself known via Yes! Magazine and TV channels. Now we have online platforms to promote our artists. Nowadays it is impossible that one's hard work and talent go unrecognised. If you want to be seen, and if you work hard, the audiences are definitely able to see you." Lo said that his artists update their social media like facebook and Instagram regularly. Snapshots of daily life will be uploaded so as to let the audiences know more about the artists and let clients understand more what an artist can do. Sometimes there is a live broadcast to engage fans directly. Friendly interactions with the audiences are what an artist has to do.
Lo disclosed that his company will start marketing in Hong Kong early next year in order to promote Macao music, while the base will still be in Macao. He remarked that the market in Hong Kong is different from Macao. While the former one is more market-oriented, the later harnesses support from the government and the development of its creative industry will be more liberal. "Now our company can put more time to carry out some charity work like visiting orphanages or playing a charity gig pro-bono. There are no vicious competitions in Macao at the moment. Artists from different agencies can perform together in an event, or even appear in the same movie. The ambience is pretty harmonic. But if it's growth that you are after, you should go to look for opportunities in Hong Kong. After all, people in Macao also audiences of Hong Kong media," Lo said.